For Community - With Community - By Community
Require Support, Help, Guidance or Advice?


Contact Us

That's it, it's that simple
No questions
We're here to help
Every part of Choices is;
1. Inclusive

2. Accessible

3. Without Barriers or Discrimination

4. Affordable

Volunteering
Would you like to run a quiz?
Could you help a child out with some reading or maths after school?
Would you sit and talk with someone over a coffee?
Could you prepare someone for an interview or run someone to the Doctors?
All of our programmes are deeply rooted in the community, so having genuine people from the community involved at the heart of each programme provides compassion, understanding and support where it is most needed.
Volunteers are our life blood
Fundraising, Grants, Donations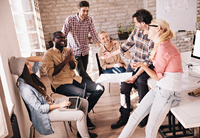 Stags in the Community CIC is a Not for Profit business.
We rely upon donations, grants and fundraising to be able to deliver our programmes. As much as we would love to provide everything and give our time for free, unfortunately our own Bank Manager's don't see it that way!
Every pound goes towards developing, growing and maintaining our programmes.
If you would like to fundraise for Choices, if you would like to donate, or you have knowledge of Grants available for Community purposes, please Contact us
Calling all businesses - large, medium or small
This is an open invitation to your business to become involved in Choices.
Are you looking for new staff?
Can you help with donations of food, clothing, materials?
Would you allow your staff to volunteer one day a year to Choices?
Can you make a financial donation (it's tax deductible too, check with your accountant!)?
Choices are For Community - With Community - By Community.
We look forward to hearing from you as to how your business would be best suited to getting involved
There is no greater community than the one in which we live; our world.
It is a precious community
Choices currently have links to projects in South Africa, The United States Native Communities and Europe.
If there is a project that our local community can develop with the global community, we'd love to hear from you, we'd love to get involved